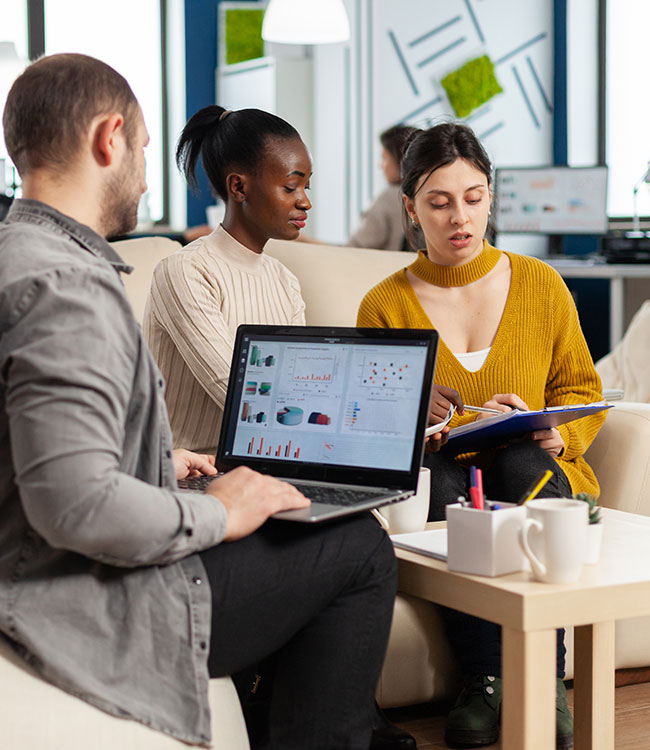 FULFIL YOUR TAXPRENEUR DREAM
Launch Or Elevate Your Business With Zero Upfront Costs
Dash Tax & Business Solutions invites you to go beyond the ordinary and expand your tax practice into a full-service Financial and Business Services Agency. Opens the door to new possibilities with our innovative business solutions service bureau establishment method. This door will lead you to your triumph in tax practices. Dash Tax & Business Solutions has a hand on your back if you plan to start your tax business or are looking to catapult your existing business.
YOUR TAX SUPERPOWERS ARE HERE
Get The Most Out Of Our Professional Tax Prep Software
Schedule a thrilling tour through the outstanding features of Dash Tax & Business Solutions' professional tax software. It's more than simply software; it's your dependable ally in making tax season a breeze. Don't just take our word for it, demo our software for yourself. 
Document Manager


Streamline Your Tax Office
Everything you need, from W-2s and 1099s to receipts, is available digitally. This feature is your one-way ticket to a paperless tax office. It's similar to a digital wizard's assistant in that it allows you to scan and upload important client files directly to their document management portal.
Individual & Corporate Return Forms


Tackle Any Tax Challenge With Ease
Our expert tax preparation software can handle individual tax returns and sophisticated business filings. Handle any type of client in a user-friendly package, from the person next door to the corporate behemoth down the street.
Quick Estimator


Predicting Refunds In Minutes
This tax refund crystal ball is the next best thing. This handy tool enables Tax Professionals to provide clients with an instant estimate of their return amount. You can use customer data to spark their return or save it for later. It's time to prove yourself a financial magician!
E-Signature


A Digital Touch Of Excellence
Signing on the digital line has never been easier. Say hello to our E-Signature feature, which is the definition of simplicity. Capturing a taxpayer's signature on all relevant forms is now as simple as a few mouse clicks. We don't need a sign-pad because the modern touch is covered.
Taxpayer Portal


Stay Connected With Taxpayers Via Secure Links
Our taxpayer portal provides your dependable link to clients in an age of remote connections. Clients can view, print, and access their returns while you maintain a secure connection. Dash Tax & Business Solutions provides a digital handshake, not just a portal.
K-1 Import


Turbocharge Your Tax Prep
Manual data entry errors are a thing of the past. Enter the K-1 Import tool, your hidden weapon for reducing tax errors and saving time. It's quick and simple and imports K-1 data immediately into the taxpayer's return. It's time to embrace efficiency.
Get Started
There's a software package to suit every tax office need
Software Packages Include:
Unlimited 1040/1040 NR Returns
All States
Business Return Forms
Multi-User Management
K-1 Import
Quick Estimator
Business MeF Software
Mobile App
Client Organizer
Client Manager

Set Your Own Prep Fees ($250 Minimum)

Appointment Scheduler (built into the software).
Preparer Referral Program
Document Manager
Taxpayer Portal
Remote Signature
Bank Products such as Refund Advance Loans up to $6000
All Business States
Interview & Direct Input Modes
Bonus 300 Customized Social Media Posts (Paid Packages Only.)
Software Training
Free Business Courses to help your business grow.
Competitive Backend Fees

Information Return E-Filing (W2, 1099's, 1098's and more. 

Form fees apply

)

Provide Affordable Payroll Services for your clients.
Discount Continuing Education (IRS Approved)
Choose The Perfect Plan
TAILOR-MADE FOR YOUR SUCCESS
Are you ready to take the first step toward tax and business planning success? Dash Tax & Business Solutions presents you with a comprehensive assortment of software package solutions tailored to meet your tax business.
You embody ambition as an Independent Contractor Preparer with a vision for a better tomorrow. Look no further than our Free Solo Partner Package to jumpstart your journey and reach new heights. These portals are your ticket to new horizons where peace prevails and ease scales.
But here's the exciting part. Our dedication to your success goes beyond bundles. We take pride – in providing customized tax software. If you require additional assistance or features, our helpful staff is only a message or phone call away and eager to help.
Let's strive for achievement together.
Solo Partner Package
Features
$100 Flat Fee Per Return

PTIN Required

Cost of Background Check Not Included ($20)

Documents Reviewed For Compliance

Unlimited E-Filing

Daily Payout ( Until Mid-Season) Then Weekly
EFIN Owner Partner Package
Features
No Revenue Share

Unlimited E-Filing

Daily Payout (Until Mid-Season) Then Weekly

Preparer Referral Program

Cost of Background Check Not Included ($20)
Service Bureau Partner Package (No EFIN Required)
Features
$50 Flat Fee Per Return (Must Be Enrolling with 4 Other Preparers)

PTIN Required

5 Additional Users (PTIN Required Also)

Documents Reviewed For Compliance

Unlimited E-Filing

Daily Payout ( Until Mid-Season) Then Weekly

Preparer Referral Program

Cost of Background Check Not Included ($20)

Add Additional Preparers for $79